Considering VNA Storage? You need a Specialist for your floor slab
Published on 05 January 2023
Warehousing and logistics operations are currently in their prime time due to a drastic increase in consumer demands especially through e-commerce. Having an appropriate approach and arrangement of your warehouse facilities is recognised by the industry as essential for efficient and cost-effective long-term business operations.
IMPORTANCE OF VERY NARROW AISLE (VNA) IN WAREHOUSING OPERATION
Very Narrow Aisles (VNAs) are one of the most significant considerations in the warehousing industry. VNA reduces unallocated space and maximizes the warehouse capacity through a high-density storage system, vertically designed with high-level racking systems.
One of the most important factors of having VNA system is the impact on the operational cost.

Companies are choosing VNA systems for their new or existing warehouses. It ensures a more profitable operation by creating additional levels of racking storage that can help them to be more compliant with the current demands without massive effects on the overall operational cost.
SUPERFLAT FLOORS FOR VERY NARROW AISLES (VNA)
The concrete floor slab along Very Narrow Aisles requires a specialist design and construction approach to attain the floor flatness requirements that is essential for the safe & efficient use of a high-level racking system.
In very-narrow-aisle (VNA) warehouses, forklifts travel 6-foot-wide aisles between storage racks through rack-mounted rails or a wire guidance system embedded i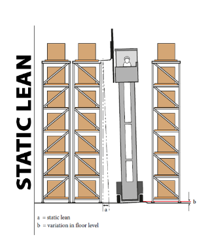 n the floor. While moving down the aisles, these lifts trucks can raise their forks to retrieve or place products at various levels. For these forklifts to perform as intended, defined-traffic floors must be extraordinarily flat and level. Since the lift truck travels the same route over and over, the smoothness of the wheel paths most especially in Defined Movement (DM) aisles becomes extremely important. Although the tolerance only needs to be confirmed in the wheel tracks, each traffic paths should be directly measured using a continuous-recording floor profilometer configured to run exactly in the wheel tracks.
Based from the Concrete Society's TR34 Defined Movement (4th Edition) classifications Table 3.2, permissible limits of VNA areas can be considered as follows.

WHAT TWINTEC CAN OFFER?
Twinplan® & Ultimate
Twintec solutions are large 'jointless' panel floors constructed with steel fibre reinforced concrete (Twinplan) or totally seamless hybrid mesh & SFRC (ULTIMATE) with a uniquely developed special rectification process to meet the requirements of a high tolerance floor in terms of flatness, levelness, and operational demands.
This is essential in very narrow aisles (VNA), together with high-level racking systems with mechanical handling equipment (MHE) that runs & operates on defined movement (DM) floors through fixed pathways in between the racking.
Designing and constructing a DM floor slab is not an easy task and the consequences if not meeting the required flatness & levelness will be at best costly or detrimental to efficient operation and at worse fatal from a safety perspective. You should only engage a flooring specialist who can provide the following:
Highly skilled and experienced workers, directly employed and quality motivated

Dedicated flatness team working alongside experienced finishers to comply and achieve the accurate floor tolerance specification

Precision in-house developed machinery and maintenance

Robust quality control processes

Concrete mix design, delivery, and quality
All the above requirements should be implemented from day one to ensure the desired results comply with the project specifications and international standards.
All Twintec designs are optimised to consider the environmental impact - contact us to discuss how we can cocntribute towards your sustanability objectives.
TSR Service - Wire Guidance Installation
To complete the VNA flooring solution for warehouses, Twintec also offers wire guidance installation on Very Narrow Aisle (VNA) as part of Twintec Service and Renovation (TSR).
---
Twintec has a long-standing track record of designing, constructing, and providing guarantees for high-tolerance floor slabs worldwide to meet Very Narrow Aisle (VNA) requirements as verified by independent consultants.