Published on 10 February 2021
Twintec Australia has completed a 21,500m2 external floor slab for Surepipe in Brendale QLD. Surepipe deliver and supply work-ready pressure, structural steel pipe and casing solutions to clients and recently purchased this greenfield site to expand and centralise their operations. The site will handle production, storage and distribution of their products throughout Australia, New Zealand and Papua New Guinea.
Twintec were approached by Surepipe and Hilton Reid Consulting for slab design to suit the operational needs. There was already a conventionally reinforced design on the table but they had researched into the benefits of a steel fibre reinforced option. Twintec were able to redesign the project in-house with some significant benefits to all parties involved.
Twintec worked closely with both Surepipe, Hilton Reid Consulting and STP Consultants to understand the requirements. A particular design challenge was the high line loads applied to slab from the heavy and large stock coupled with high forklift axle loads. With additional geotechnical testing of the sub-base, Twintec were able to offer two Freeplan® XT slab designs to suit different areas of the site.
As part of Twintec's Total Offer Concept, Twintec Australia and its franchisee, QR Contracting, integrated to site early to verify handover from the civil contractor. QR Contracting, as the main contractor, managed and delivered all site operations. In just 23 casting days, they delivered 21,500m2 of concrete pavements. Minimal days were lost from inclement weather.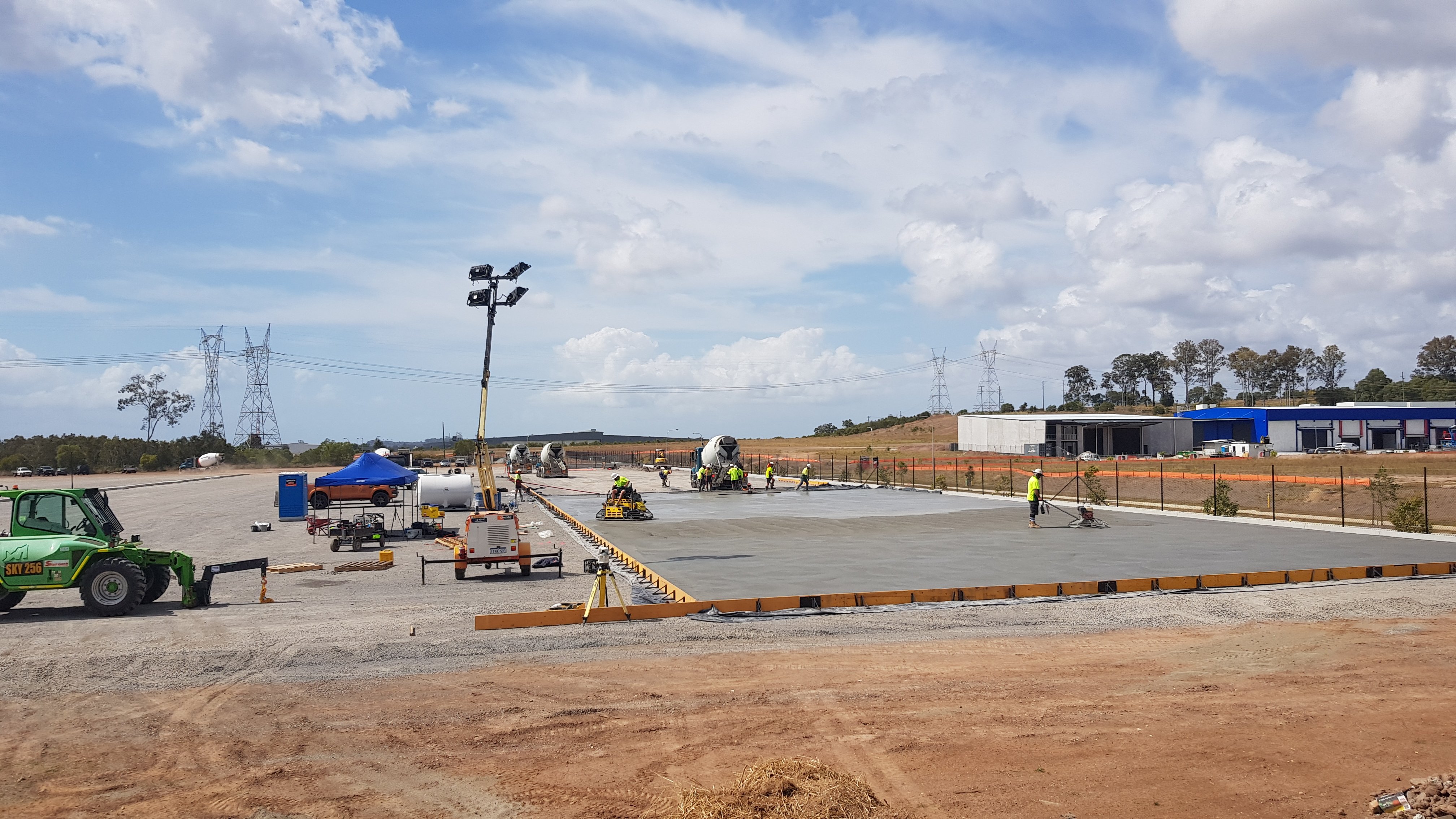 Twintec designed a concrete mix with Hanson for this project. Focus was on concrete performance, set times, workability, bleed rates, fibre dispersion and the ability to obtain a suitable finish. Joint set-out was coordinated to suit falls and aid in high production outputs. The Freeplan® XT design had dowelled saw-cuts at 10 metre centres and dowelled expansion joints at 60 metre centres. This allowed for direct discharge at the workface, eliminating the need for concrete pumping.
Due to the possible complications of casting externally, strict quality control measures were put in place by Twintec and QR Contracting. This included concrete testing and monitoring of wind and evaporation rates throughout the pour and while finishing. Casting times were often in the early hours of the morning to accommodate the weather patterns. To complete the build, joint sealing together with a full site clean and sweep were carried out. Slab loading and occupancy commenced at 28 days after casting.
For this project, the Freeplan® XT offered significant benefits to the client:
Reduction in slab depth from the original design
Faster production time allowing quicker occupancy
Elimination of procurement and placement of traditional mesh
Elimination of concrete pumping
Reduction in working joints, resulting in less maintenance
Low life cost
Increased operational efficiency
Guarantee including aftercare
The Twintec in-house design team will recommend the best design for your Freeplan XT external floor slab by taking into account vehicle types, axle movements, vehicle weights and loading/offloading procedures and stock storage. This is then combined with skilled, experienced workers and the latest in concrete placing and finishing equipment, under the supervision of a dedicated Operations Manager to ensure the finished product meets the operational requirements.
All materials including steel fibres, galvanised armoured expansion joints and load transfer systems are specified and provided by Twintec as part of the total package. Offering the total package Design-Build-Guarantee on both internal and external slabs, means the end user can be sure they are getting a floor slab that is specific for their operational requirements.
Concrete is given specific attention by a dedicated in-house Concrete Specialist working with the concrete supplier to obtain the optimum mix design requirements. No element of the design or construction is left to chance.
Properly designed, planned and executed, Twintec Group offer the Freeplan®XT product worldwide. Check our our casestudies here
Contact your local business unit for further information or email us mail@twintecgroup.com