Published on 11 August 2020
In these extraordinary times we faced a pandemic situation for the first time in our lifetimes, all construction businesses have had to look closely at how to work within WHO, Government and site specific guidelines with the safety and wellbeing of employees and our communities being paramount.
Not only site based activities, everything was questioned from how and where employees worked to how they engaged with customers.
Twintec as a specialist design & build concrete flooring contractor was no different, and moved quickly to adopt and implement virus related work safe practices across the Twintec Group.
UAE Construction Challenges
On March 19th 2020, Twintec Middle East with its regional headquarters in Dubai were faced with a new unprecedented challenge as the UAE introduced strict lockdown measures to combat the Coronavirus outbreak, including the closing of borders to residents and visitors alike, leaving some staff unable to return from overseas trips, delays on import of materials, restrictions on office capacity and public transport.
Unlike many countries in Europe, the United Arab Emirates defined construction activities as a key economic sector permitted to continue working within clearly defined guidelines relating to movement of personnel & equipment, personal hygiene, and social distancing measures. Whilst this meant that site operations could continue, it required a rapid adjustment of some on-site working practices, review and implementation of additional health & safety measures to ensure continued protection of all workers and preparation of clear documentation for the authorities and general contractors on site. Mandatory home working was introduced for all office staff and, as for millions of others around the world and widely documented and discussed, this meant a severe re-adjustment to daily work routines.
Addressing the challenges – what action was taken?
A thorough risk and continuity of work assessment, considering international and local guidelines on health, safety and best practice.

Briefing of all staff on mandatory preventative measures and conducted weekly review meetings to assess the rapidly changing situation.

Introduction of a rigid equipment and warehouse/office cold fogging disinfection regime, appointing authority approved providers.

Providing all staff (on and off site) with personal PPE (facemasks, gloves and sanitiser).

Appointment of key personnel to monitor and ensure compliance.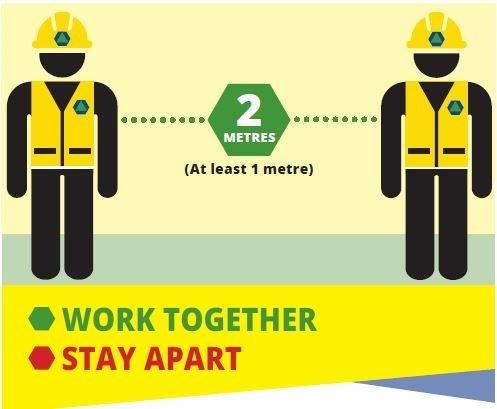 Work Together, Stay Apart
COSCO, Chinese government owned shipping and logistics company, appointed Twintec to design and construct a 50,360m2 Freeplan 'jointless' SFRC concrete floor slab for their new development in the UAE and in light of the pandemic situation the Chinese contractor together with the Twintec team introduced stringent measures to ensure personnel safety alongside a commitment to complete the construction of the concrete floor slab.
Twintec area of work was off limits to all other contractors during concrete pours and workers were provided with self contained rest areas.

Workers were accommodated in hotels that demonstrated measures over and above the minimum recommended guidelines. Including guest only policies, strict regular disinfectant regimes and restaurant social distancing measures.

The self contained Twintec team maintained a "team lockdown" regime for the duration of the works.

Twice daily temperature checks and Coronavirus symptom checks were implemented and recorded in addition to regular toolbox talks.

Face masks and gloves were mandatory on site in addition to usual PPE requirements.

Strict social distancing and personal hygiene was observed during all interactions with the contractor or other trades on site.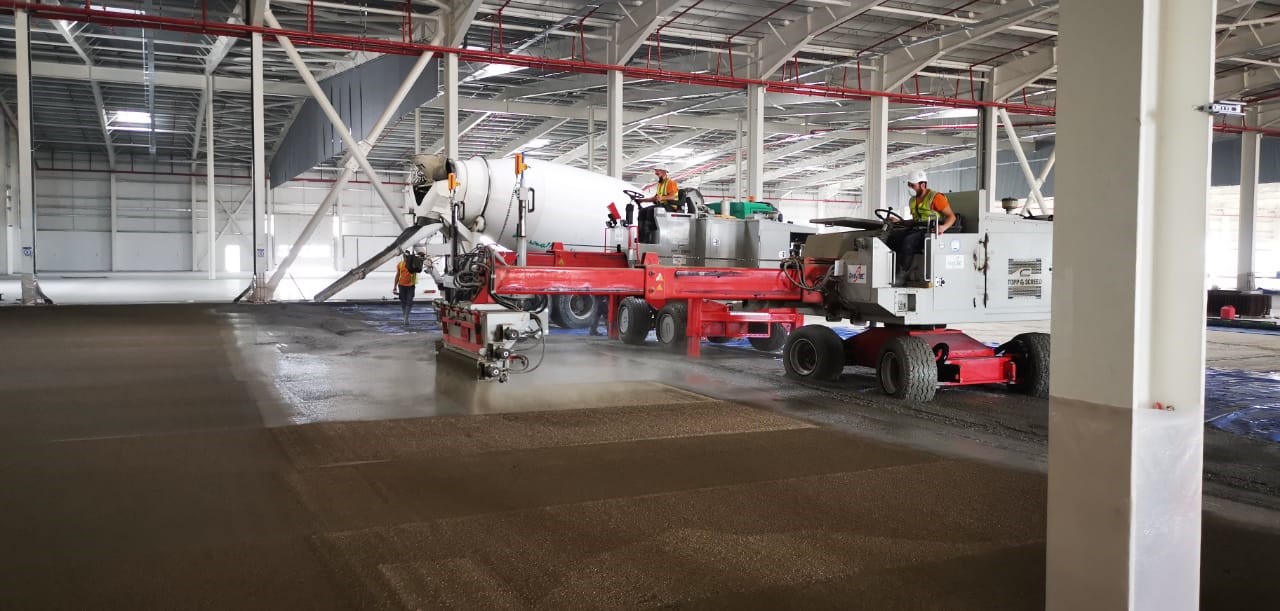 The introduction of a national sterilisation programme in its drive to combat the spread of Coronavirus by the UAE Government and restrictions on people movement (including concrete deliveries) from 8pm to 6am presented further challenges - specifically when your contracting operation normally continues around the clock. This is an additional issue during May and June as daily temperatures rise to in excess of 40°C and concreting works would generally take place at night.
A collaborative approach between all parties agreed programme and output modifications with a clear focus on maintaining safety and quality of workmanship under the conditions of operation. The result was a high quality 'jointless' slab that allowed the contractor to keep his project moving forward.
Critical Success Factors
People. The most valuable resource in any organisation. A willingness of employees to adapt in addition to knowledge, skill and experience is key, combined with an informed proactive management able to support staff and maintain workers' motivation under extremely demanding circumstances.
Process. Successful site execution is built around robust processes and practices. Fast paced decision making and execution to adapt those processes proved key to maintaining work output and customer satisfaction in a safe manner.
Partners. Communication and commitment of all stakeholders within the business working together as partners to achieve a common goal.
The Next Normal
Stop assuming that the old ways will come back. As the construction industry worldwide takes the first steps to rebuild, businesses need to find a balance between what worked before and what needs to happen in the next normal. The past few months has revealed how agile the industry can be and where we can perform even better.
Remote working may not be ideal for all but can work - experience has shown that clients are willing to chat on a video call for more time than they were willing to spend in a meeting at their offices and digital tools have enabled us to increase productivity in some areas of the business.
In our industry, the daily business is on site and for companies like Twintec as a specialist on site sub-contractor this doesn't change, but it is clear that we must continuously adapt and closely monitor conditions for our people, projects and clients while maintaining proven and successful practices that continue to produce positive outcomes.
Article published by The Concrete Society
http://www.concrete.org.uk/concrete-free.asp
Contact Twintec to discuss your concrete floor slab requirements mail@twintecgroup.com