The use of repurposed steel fibres in road pavements
Published on 08 September 2023
It is a well know fact that asphalt roads ae expensive and have a short life span. Asphalt as a material is very high in embodied carbon, and is in most cases a non-renewable construction material.
In 2006 the European commission started a program to find an alternative construction method for road pavements for the future. The aim of the program was to investigate a low cost, durable and low CO2 road construction solution. To reach this aim, the objective soon became clear - to develop a pavement solution that was fast to lay but offered sustainability benefits and long service life.
Twincon® participated in this program as a company that specialises in supplying sustainable construction materials and being part of the Twintec Group, that holds sustainability at the heart of its core values.
Following an investment of 15 years of research and development, Twincon® developed a method for recycling end of life tyre chord into a useable engineered steel fibre (AFT® E-Fibre) that can be used to design fibre reinforced concrete.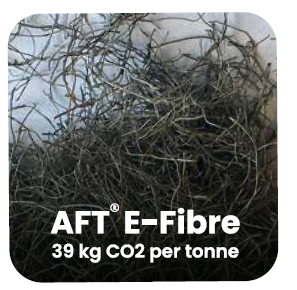 By utilising the benefits of both flexible and rigid pavements, an optimal solution was adopted – Roller compacted concrete (RCC) reinforced with AFT® E-Fibre re-purposed steel fibres only. This solution is fast to lay, utilising asphalt laying equipment, but it benefits from the durability of concrete. Since there is no steel mesh or traditional reinforcement to lay, the construction time is as fast as the laying machine can be fed RCC mix.
This solution can (depending on the situation) realistically achieve:
Reduction in construction costs of up to 20%

Reduced construction time

Significant reduction of energy consumption in road construction up to 40%

Service life span increases compared to flexible pavements
The roller compacted concrete pavement solution, using recycled tyre chord steel fibre is now a reality, and available in the market!
This presents an opportunity for government authorities to utilise this new technology to build long lasting road pavements with recycled materials and lower embodied carbon. The added benefit is that the lifecycle cost of this solution is lower than existing asphalt pavements, due to the increased service life of steel fibre reinforced RCC.